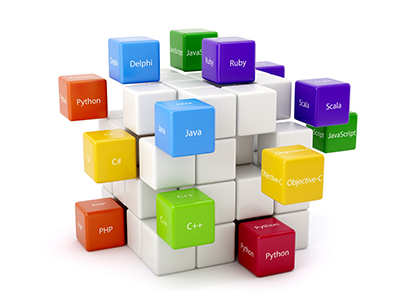 Beside SAP® based applications, the typical IT-infrastructure in a company consists of many other IT-systems and tools. Examples are : web-portals, databases, identity & access management systems as well as a lot of desktop software like MS-Office. To provide the best possible service to our customers, our expertise covers lot of common tools and technologies. These help us to understand the IT landscape of our customers as a whole and tune particular components to fit in. In the course of this we develop customer specific solutions and applications which integrate seamlessly within an existing system landscape.
Application development
As a service provider we support you in design and implementation of custom software solutions. This includes:
Application development with technologies of your choice and need. In particular within Microsoft (.NET) or Java technology stack.
Development of web based applications, portals and rich internet applications (RIA's).
Development of mobile applications for the common devices as Smartphones and Tablets with the usual target platforms : Android, iOS and Windows.
Development of Database applications.
Development of workflow driven systems.
Development of Graphical User Interfaces (GUI). In course of this we develop custom user controls and visualizations.
System integration
The interaction of tools and applications within a company requires well designed system architecture and interface solutions. Within that field our expertise covers:
Integration of existing systems and development of interface solutions.
Architecture consulting and system analysis.
Customizing of existing tools and systems.
Development of addons and plugins for existing software in your company.
Support the launch and integration of new software products.
Data and Database migration between IT-systems.